Commercial Crew Access Tower Launch Complex 41
Cape Canaveral Air Force Station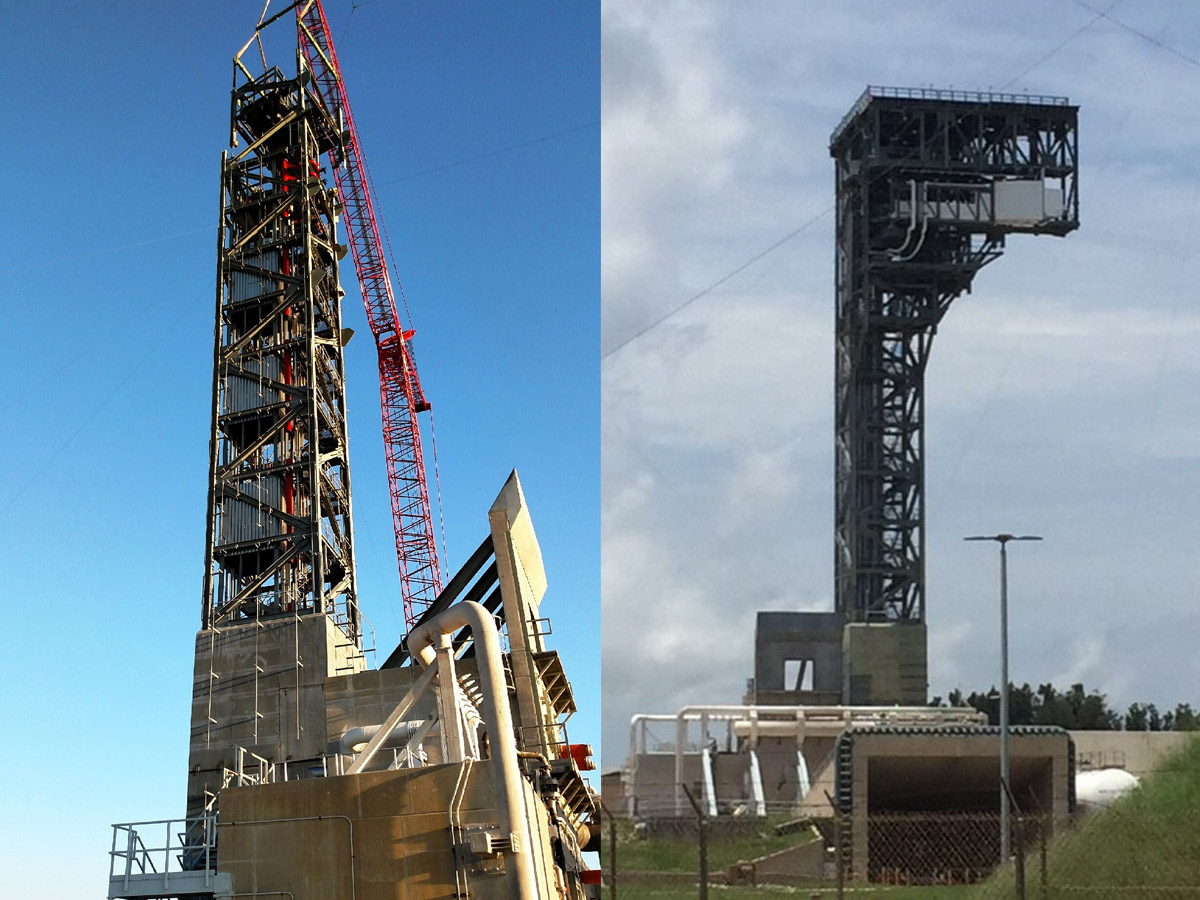 Description:
Sauer Group, Inc. was selected to play a substantial role in this project which added the astronaut crew access tower to an active Atlas V launch pad to support upcoming commercial crew launches of the new Boeing CST 100 space capsule.
This project proved to be considerably challenging as the onsite construction was performed in multiple work windows scheduled and updated frequently as required to react to a typical ULA Atlas V launch manifest which continually changes depending on vehicle and payload processing.
A significant portion of the crew access tower was modeled, fabricated, and assembled offsite and brought to the pad, rigged, and lifted in place during these limited work windows.
Sauer 3D modeled and prefabricated the washdown, deluge, and emergency egress pipe systems along with the associated supports offsite, assembled and installed at the buildup site, and made final riser connections at the pad once the tower sections were placed. Similar processes were utilized for the precision cleaned ECS ductwork, nitrogen supply, actuation, and purge, regulation panels, and hazardous gas detection stainless steel tubing required for this project.
Due to schedule constraints, the crew access arm was assembled at our offsite fabrication facility on a temporary access tower to allow for the ample amount of time required for the swing arm testing, adjusting, and profiling in parallel to the onsite construction; to drastically minimize testing time on site. Upon completion of the arm testing and onsite access tower construction, the arm and associated equipment were removed from the temporary test stand and brought to the sight where it was rigged and placed as one assembly along with the supporting equipment and parts before final onsite validation.
The completed crew access tower stands ready to support the return of America's capability of manned access to space.
Owner:
United Launch Alliance
Location:
Cape Canaveral AFS, FL
Architect:
United Launch Alliance (ULA) / Nishkian Dean
Construction Manager:
Hensel Phelps Construction Co.
Systems Installed:
Washdown
Deluge
Emergency Egress
ECS Ductwork
Nitrogen Supply
Hazardous Gas Detection
Processing Systems